No additional fee for stairs, assembling, disassembling, narrow hallways,wrapping, long walking distance.
Our Best Moving Prices
Moving out and looking for affordable moving company ? We're exactly what you were looking for !
2 Movers + Truck
(cash / credit card)
Zero equipment charges;

Free use of wardrobes boxes;

Free use of moving blankets;

Free use of any tools;

Disassembly and assembly.
3 Movers + Truck
(cash / credit card)
Zero equipment charges;

Free use of wardrobes boxes;

Free use of moving blankets;

Free use of any tools;

Disassembly and assembly.
4 Movers + Truck
(cash / credit card)
Zero equipment charges;

Free use of wardrobes boxes;

Free use of moving blankets;

Free use of any tools;

Disassembly and assembly.
LICENSED & INSURED
Our business has passed all requirements.
PROFESSIONAL VEHICLES & DRIVERS
Our drivers have years of experience with moving trucks.
AFFORDABLE, HONEST, EXPERIENCED
We are Trusted Moving Company!
GET AN ESTIMATE
Call, Text or get a Free Quote about our moving services from SQ Professional Movers.
PLAN YOUR MOVE
Get organized, plan your moving day and hire Local movers from SQ Moving company.
SCHEDULE YOUR MOVE
Choose your preferred moving date and time and get a confirmation number.
WE'LL TAKE IT FROM THERE
Our team will take care of your move as smooth as possible and will assist you through the entire process.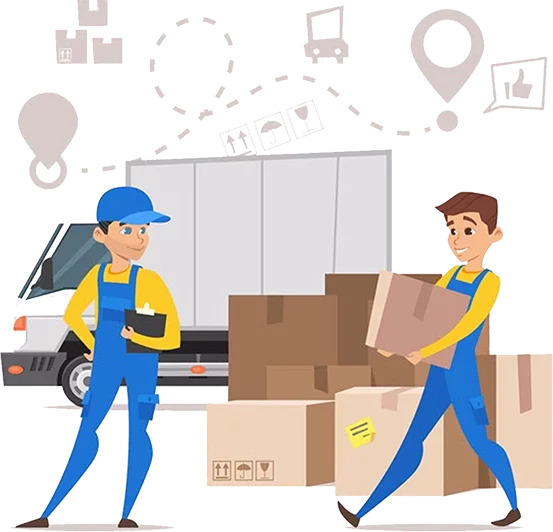 Movers in Los Angeles see us as serious competition as we raise the benchmark standard from ordinary to 100%.
We deliver on what we have promised as are accountable to our clients and understand how vulnerable leaving a residence to a new residence can make one feel.
Our business has been established through word of mouth and a loyal client base. We plan on keeping it that way and aim never to disappoint. We at SQ moving are the best movers in LA, and we intend to keep it that way.
Excellent! Have used them multiple times for large Home moves and they always do fantastic work. No surprise fees, no charges for assembly/disassembly, highly competitive rates, and all in all a great value. Can't recommend them highly enough. Greg especially did fantastic work. He and his team even assisted in hooking up our new refrigerator, connecting our washer, assembling a desk, and even fixed a door that wasn't closing! They went above and beyond - if you need to move, give them a call.
This was the single best moving experience I have ever had, and I have had many! A crew of three showed up on time, moved swiftly and handled everything very carefully. I did not have a single broken item or scratched wall throughout the entire move. They were pleasant throughout the entire move (especially the lead guy), which is pretty remarkable because it was a VERY long day. I moved from Los Angeles to San Diego (3 bedroom/2 bathroom house), and they completed the move all in one day. I was especially impressed with the fact that they offered to unwrap my SIX brand new area rugs (which were not a part of the move; they were already at the new house) and place them throughout the house, before placing the furniture into those rooms...I wasn't even going to ask them for that, because I felt this was above and beyond their scope of work. It was so helpful that they did this for me. I went with a flat rate and there were no surprises at the end...what they quoted me was what I paid. I highly recommend this moving company and if I ever move again, I would not hesitate to call them.
We were in a bind because our scheduled moving company had to cancel on us the day of our move. This company happened to have movers available and they were at our house the same day. They continuously worked at a fast speed despite the long journey from our apartment to the loading area. They were highly professional and our belongings were handled care. The loading to our new house was swift and efficient as well. In addition to all this, they were more affordable than our originally scheduled movers. We are very happy we chose SQ movers and we highly recommend them.
Team of 3. They were Professional. Efficient. Nice guys to work with. Highly recommend!
Moving is a stressful event, and even hiring movers can be a little worrisome... Who will come, will they treat your items terribly, will they go slower since you're on an hourly rate? Will they find reasons to add a couple $$$ to your final bill? Well not with SQ moving company. I got quoted $160 Cash or $170 card per hour for 3 people and that is exactly what I paid for (plus the piano heavy item fee). So there were no hidden charges. Also, they get RIGHT to work and within 3.5 hours they were done! Very impressed with Greg and his crew! They made what is already a stressful day alot less stressful. I would highly recommend them for their rates and quality.
Moving is such a stressful and nerve-racking thing. SQ movers helped make the process feel effortless. The 2 movers showed up exactly on-time and fully-equipped. They carefully and quickly moved all my stuff. No damages, no dents, no mishaps, and even the most fragile of my kitchen glassware all arrived in one-piece. Thankful for their help!
I got a quote from Stan through yelp and it was one of the most competitive quotes for from a verified and insured company. From the jump Stan was responsive and accommodating after I changed my schedule. The day is the move the guys showed up on time ready to work. They jumped right to it and were a tremendous help to me in getting all my things moved. I even had a chair that was in disrepair and one of the movers fixed it for me. Really friendly and hard working trustworthy movers. I would highly recommend Stan and his wonderful team.
Three man team was great. They were careful, clean, ontime and worked fast. Estimate was accurate.
Amazing experience today with the team from SQ. They were incredibly friendly, efficient, and ultra careful with our items and our house. Loaded unloaded a 3 bedroom house, plus tons of outdoor plants, garden sheds, etc. in 7 hours - without a single scratch on the wall! Great experience from start to finish! Don't waste your time looking at other companies when it's time to move - SQ is a fantastic choice!
Agoura hills
Alhambra
Anaheim
Arcadia
Artesia
Azusa
Baldwin park
Bell gardens
Beverly hills
Bradbury
Brea
Burbank
Calabasas
Commerce
Costa mesa
Culver city
Cypress
Dana point
Downey
El segundo
Fountain valley
Glendale
Glendora
Hawaiian gardens
Hawthorne
Hermosa beach
Hidden hills
Huntington beach
Irvine moving services
La canada flintridge
La habra
La palma
La puente
Laguna beach
Laguna hills
Laguna niguel
Lake forest
Lakewood
Lomita
Long beach
Los angeles
Malibu
Manhattan beach
Maywood
Monrovia
Newport beach
Norwalk
Orange
Palos verdes estates
Paramount
Pasadena
Pico rivera
Placentia
Rancho palos verdes
Rancho santa margarita
Redondo beach
Rolling hills
Rolling hills estates
San fernando
San marino
Santa clarita
Santa monica
Sherman Oaks
Seal beach
Signal hill
South gate
South pasadena
Torrance
West Hollywood
Westlake village
Westlake village
Westwood
Let's Get Started
Ready To Make a Real Change? Let's Move Things Together!